The Power to Drive Forward
360.Agency is a leading agency in the field of integrated and innovative solutions for connected car dealerships. We are a multidisciplinary agency of enthusiasts and experts grouped together from five companies, working together, to help your dealership achieve its goals and objectives to find success. From ecommerce websites to powerful management software, we create solutions to consolidate your physical and virtual automobile dealerships.
Drop by our agency to refuel your business and propel your sales.
We can give you 360 reasons why choosing us is the right decision.
Here is a taste of what makes us different :
PACKAGES AND PRICING
Enroll Now
---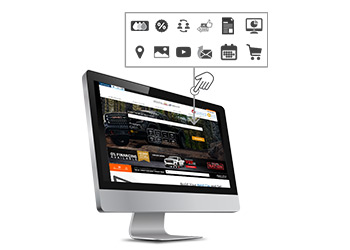 A Powerful Site for You, an Optimal User Experience for them
Provide your potential customer with a quality online experience, capture their attention and interest with a site that is tailored to your image, a modern design adapted to web trends and an optimal experience on all devices.
Conversion is at the heart of our design
Your website is the extension of your dealership. Best web practices, state-of-the-art technologies, user-driven design – everything is designed to help you achieve and surpass your sales goals.
A personalized site designed to evolve
Your site and content adapt to your consumers' habits, web trends and your business needs and objectives. Our teams accompany you at all times to improve your conversion.
---
Exclusive Photo Galleries
We are the only ones offering a Canadian bank of images
Unprecedented gallery of Canadian vehicles
Studio quality photo gallery (25-50 snapshots per model)
Multi-angle vehicle displays with colors and specifications available according to make, model, year, trim
Detailed photos of the interior and exterior
Interactive visuals with virtual tour functionality for total immersion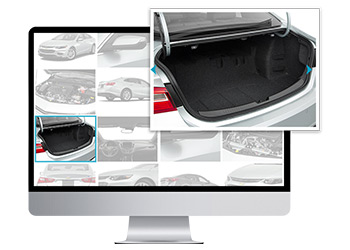 ---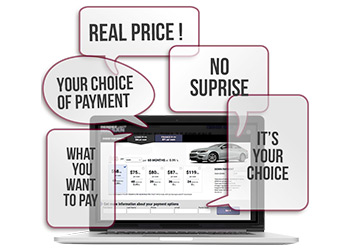 Showroom 360, Manufacturer Promotions and Programs Management
Strengthen their trust. Get more commitment. Capture more leads.
"How much will my dream car cost me ?" – that's the question that 44% of your visitors ask themselves before they visit a dealership. To encourage their purchase decision, offer an optimal online experience that addresses their major concern. By providing them with a useful and powerful calculation and configuration tool, you gain their confidence, increase their commitment and encourage them to take action.
Calculations according to two payment options: Leasing/Financing
Payment evaluation according to customized parameters: frequency, interest rate, payment term and down payment
Down payment management by choosing the desired down payment amount
Manufacturer Promotion included
100% autonomous payment evaluation
Intuitive, simple and efficient navigation on mobile, tablet and computer
---
Showroom 360, a Car Selling Platform 100% Online
Shift to e-commerce today and join the online retail revolution of the automotive industry.
Offers a simple, transparent and complete online experience by promising your consumers the autonomy, flexibility and service quality that they are looking for.
For the first time in Canada, take advantage of a platform allowing you to go through the entire buying process of a brand-new or pre-owned vehicle without ever leaving your house. The consumer can complete all the purchasing steps entirely online, from selecting a model of his or her choice, to selecting the method of payment, the evaluation of the vehicle trade-in value, to the financing approval, and from the credit card reservation to the F&I choice of products.
SHOWROOM 360 provides retailers with the flexibility to market and position their pricing with in-house offers, OEM incentives, or those from financial institutions.
SHOWROOM 360 is integrated with Canadian Black Book to evaluate the trade-in value of cars in real time.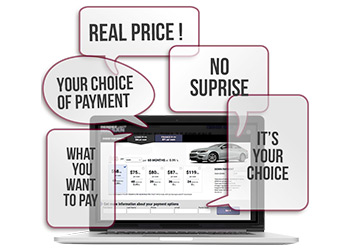 ---
XMS Pro : A central management platform
Our personalized site promise is accompanied by a proprietary content management system (CMS), created for the needs of the automotive industry. Benefit from an essential single platform which allows you to manage several types of content for your site, as well as manage access across your teams.
Inventory
Promotions
Pop-up coupons
Personalized pages
Site organized by sections
Users and departments
---
XMS 360 : Your ultimate tool for efficient inventory management and optimal syndication
Optimize your online presence and provide your teams with the tools they need to efficiently manage your inventory of new and pre-owned vehicles right from their smartphone or desktop computer.
Automatic VIN decoding
Automatic import and export to/from third parties
Window sticker printing
Advanced price management – before and after rebates
Vehicle classification – special deals, demos, certified, etc.
Unlimited photo management
V-Auto integration
Carproof integration
Inventory list printing
Quick search by stock number
Add specific warranties
Full range of options and features
Video integration
Custom vehicle description management
Our mobile XMS 360 Mobile application allows you to optimize your new and pre-owned inventory management in real-time with:
Quick VIN entry for instant vehicle creation
Create or modify your inventory from anywhere
Take pictures and videos in real time from your mobile device
Mobile version compatible with iOS and Android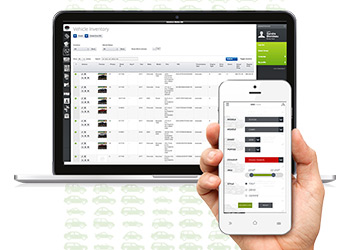 ---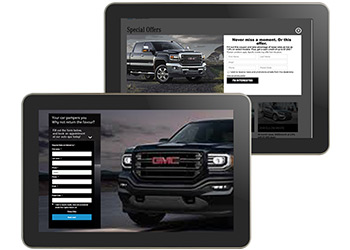 Consumer-focused conversion tactics and tools to generate more leads.
Generate more leads on your site with contextual coupons, targeted landing pages, private sales microsites and an effective management of manufacturer promotions. All aligned with your strategic objectives and supported by our advertising campaigns.
Publish and display manufacturer promotions easily, quickly, and effectively. Let our team of editors and content managers publish your promotions on a regular monthly basis within the timeframe demanded by your manufacturer, while incorporating best conversion practices in order to generate web leads.
---
A tailored and comprehensive media plan
Our team of experts guide you to maximum conversion and advise you on the implementation of an annual media plan adjustable according to your objectives and your budget.
Brand advertising (Display and Programming)
Search advertising (SEM / PPC)
Advertising
Retargeting
Social media advertising (audience targeting)
Community management advertising
SEO Strategies
Advertising Content Creation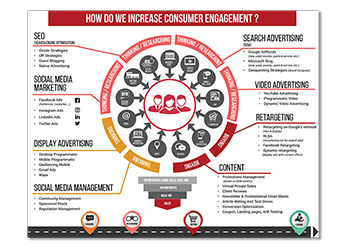 ---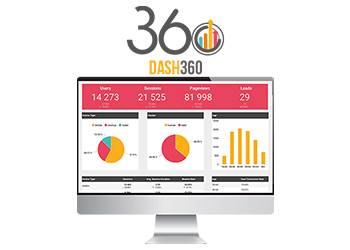 Dash 360 - GM Canada, Analytics bundle : The 360 ° dashboard for all your digital data
Thanks to our interactive dashboard DASH 360, access the results of your website statistics from a single platform, whenever you want. Measure the impact at all points of contact with your potential customers. You now have a truly connected dashboard, accessible 24 hours a day, to regularly keep track of your performance and make faster and more efficient decisions for your dealership.
With Dash 360, Track the Performance of Your Various Online Activities :
Visualize the Performance of Your Website
Access historical data
Compare periods between them
---
Using data well : the key to your success
With our advanced technology and algorithms, we reach your customers with the right message in the right place and at the right time.
By centralizing data and analyzing consumer habits and behaviors across multiple digital platforms, we can better understand your customers, better segment them according to their buying cycle, and reach more potential clients.
Notoriety campaigns
Targeted campaigns
Retargeting campaigns
Paid SEO campaigns (SEM)
Dynamic advertisements
Geotargeting
Market segmentation
Conversion tracking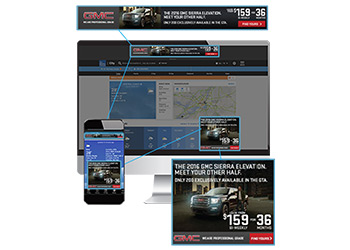 ---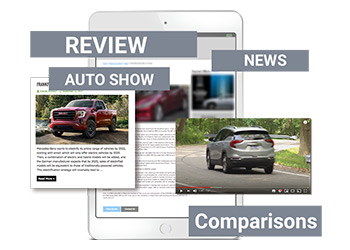 Be a benchmark in your market with relevant articles
Take advantage of the expertise of Netmedia 360, your specialized press agency, to offer exclusive automotive content on your site and increase the engagement of your visitors and increase social media interactions.
Improve your organic SEO through informative and relevant articles, optimized for search engines and written by expert journalists.
Reviews
Comparisons
The most popular vehicles offered in your dealership
Tailored coverage based on your needs
News articles based on your automaker's recent news
Auto shows
New model unveils
New technologies
Recent awards
Local events involving your dealership
---
Sites, tools, strategies and services to increase profits and engage your consumer
Become a leader in your market by integrating a range of effective solutions into your car dealership every day. From advertising to selling a vehicle online and managing customer relationships, we focus our expertise on your consumer's behavior and online shopping habits. Multidisciplinarity is "the secret to our success."