Own Your Local Market- Maximize Lifetime Customer Value
Empowering you with the right tools to REACH, ATTRACT, & CONVERT the car buyers of today. Sincro's digital solution provides an online experience backed by the most advanced and integrated website technology in the industry.
A flexible, customizable, proprietary website platform — Fully Responsive; SSL Secure; WCAG 2.0 Level AA Compliant; Fast; Preferred – tailored from dealer feedback and built to visualize your brand.
PACKAGES AND PRICING
Enroll Now
---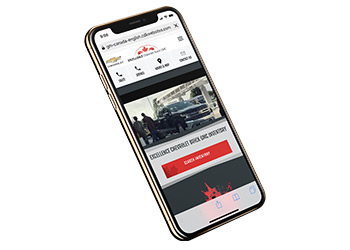 Google-Preferred Mobile-First Responsive Design
Mobile-First Responsive Design
Give consumers the online experience they expect on any device with responsive website design. Sincro websites are fully responsive allowing for automatic mobile-first prioritized search ranking on Google. Unlike hybrid adaptive solutions, with Sincro websites dealers can build content once and have their website displayed beautifully across every device and screen size for a consistent shopper experience.
Modern, Cutting-edge Designs
Tap into a large library of endless design options that allows your dealership to stand-out from the competition. endless design options that allows your dealership to stand-out from the competition. A variety of designs combined with industry leading tools and data driven optimization provide dealers with the ability to stand out and drive site conversions creating sales opportunities.
Fast and Flexible Content Management
Sincro's content management systems enable dealers to update content once and promote across the site. Manage content quickly and easily while the platform and designs are structured for strong SEO results. Intuitive inventory and content management tools allow dealers to easily update monthly promotions.
Website Calendar
No matter what seasonal event or the holiday, dealers can schedule specific website designs to display during a certain period of time with the new Website Calendar. Now you can schedule your website to have the patriotic look and feel for the Canada Day promotion and automatically switch another design after the event. Dealers can schedule designs up to 13 months in advance.
---
Automated Incentives & Merchandising Tools
GM Integrated OEM Offers & Incentives (IOM)
Sincro Websites feature deep integration with General Motors OEM Offers & Incentives service saving dealers time to promote the best most accurate prices and payments available by model.
IOM Best Incentives Deal Service (BIDS) Integration
Price and promote your inventory with speed, accuracy and confidence. Sincro Websites now feature IOM BIDS Integration, including Enrollment & Auto-Publish, Offer Stackability, Triple Mathbox Automation, GM Canada Taxability, and Payment Calculator with Finance & Lease Offers.
Syndicated Content and Integrations
Tired of searching for brand content and copying OEM messaging? Your website will benefit from brand aligned, syndicated content that will help your dealership align with the latest brand standards, events, and promotions.
Inventory Merchandising Tools
The Sincro Lot Merchandiser tool allows you to manage your in-stock inventory and ensure that your vehicles are merchandised in a way that sells.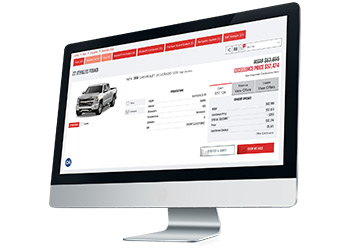 ---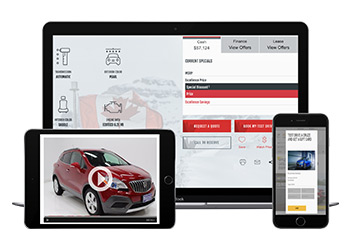 Shopping Tools
Shopping Tools
Sincro Websites offer a wide variety of ways for your shoppers to engage with your dealership, including click-to-call, multiple customizable leads forms, promotions tools, search by payment options and much more.
Call Tracking Numbers
Sincro website packages will provide six Call Tracking Numbers per Dealer with fully integrated reporting and call recording capabilities. Sincro websites seamlessly integrate with GM DDS call tracking solutions.
Promo Pop
Sincro offers "Promo Pop." Promo Pop is a promotional pop-up technology that is personalized, rendering customized vehicle offers based on shopper interests, ensuring that your site is making every effort to convert shoppers to buyers and delivering high quality leads.
New Car Personalization
Exclusive personalization technology analyzes shopper interests in real time and greets each individual shopper with a relevant shopping experience based on expressed interests informed from a wide network of interest sources. Sincro has the most extensive automotive Tier-3 database with extensive partnerships resulting in audience data for over 90% of dealer site visitors enabling Amazon-like personalization for nearly all visitors.
Inventory Pic-to-Video
Automatically create videos from your inventory photos – a proven strategy to create deeper engagement and interest in your inventory.
---
SEO Advantage
SEO Advantage
Sincro combines platform technology and industry-leading SEO practices to deliver best-in-class SEO out-of-the-box. Multiple built-in features drive better indexing on search engines, which enables your dealership to rank higher in keyword search results. Higher natural search rankings also drive lower costs for dealer paid media.
All pages are mobile friendly and load up to twice as fast as before, and content is well organized and structured — all attributes that are rewarded by search engines.
Unlimited Landing Pages
Build an unlimited number of landing pages to market your unique value propositions and events.
Integrated Sincro Blog
Grow your business and improve your organic SEO by engaging new and existing customers with a fully integrated blog.
---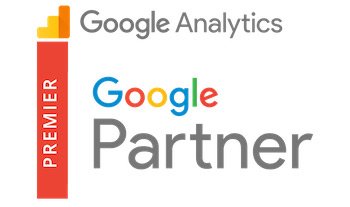 Analytics & Insights
Analytics and Insights
Get your data where you want it. Completely accessible Google Analytics and Sincro Insights data available at your fingertips. Gather insights into all of your audience segments. Know with certainty how you're engaging and converting shoppers.
Engagement Map
The Sincro Engagement Map gives dealers the visibility into how their website content and creative works to engage and converts shoppers.
---
Owning Your Market Together
ProCare Dealer Services
Our team of trained experts is eagerly ready to help. We're here when you're here – covering retail business hours from coast-to-coast.
Our teams will service your needs in the moment, making updates to your design and content, managing dealer specials, promoting key events and addressing all product-related or technical issues.