"Discover the premier digital marketing solution and partner."
At Dealer.com, we believe that the automotive industry thrives when dealers, consumers, and manufacturers are completely connected. For 20 years, we have been relentlessly focused on delivering the most powerfully-integrated and best-performing digital marketing platform available and enabling dealers to optimize and customize it through strategic partnership and support.
We are now delivering our most comprehensive solutions ever directly to Canadian dealerships as part of Cox Automotive Canada.
From digital advertising that automatically connects your inventory to likely buyers in your market, to groundbreaking personalized websites that drive faster deals, to strategic managed services teams that help you deliver custom monthly campaigns, we're delivering a more complete virtual dealership experience than ever.
PACKAGES AND PRICING
Enroll Now
---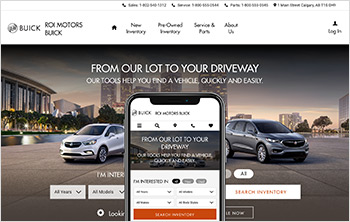 Mobile-First Websites
Beyond the one-size-fits-all approach taken by other automotive website providers, Dealer.com Websites combine responsive design with server-side elements to facilitate simple customization of the mobile experience. This hybrid, mobile-first approach to website design reflects the reality that consumers shop differently across different devices. Dealer.com gives dealers the flexibility to easily customize without sacrificing speed or search ranking.
---
All New Front-End Design Architecture
Our all-new site architecture gives dealers more flexibility than ever to customize, manage, and differentiate their websites, resulting in fewer support requests. Bolstered by dynamic new homepages and thousands of style configurations, the new design system connects dealers to additional fonts, color palettes, heading text, buttons and styles that are relevant to their existing design and available on-demand without custom work.
---
Personalized Shopping
Personalizing the shopper journey on your website has never been more critical, and more simple. Dealer.com's Experience Optimization technology delivers personalized inventory and incentives recommendations to shoppers who visit your website based on their vehicle preferences, without any manual effort by the dealer.
Winner of two consecutive Automotive Website Awards for innovation, Experience Optimization delivers high-impact personalization to your website automatically, putting potential buyers in front of the information that matters most to them.
---
An Immersive Inventory Page Experience
Our new inventory page experience delivers a more transparent and trustworthy user experience, with high-resolution vehicle imagery, Cox Automotive Canada Digital Retailing, mobile-first collapsible features and sticky navigation. These elements turn ordinary browsing activities into buying behaviors and keep shoppers on your VDPs, one of the most critical steps in the shopper journey.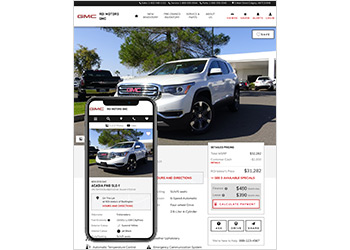 ---
On-Site Specials Distribution Platform
On-site merchandising is simplified with Specials Campaign Manager, a robust incentives and specials creation and syndication engine that deploys specials where shoppers will find them– on your homepage, inventory pages, and coupon pages.
---
Fast and Secure Websites
We partner with Akamai, the world's largest Content Distribution Network, to ensure fast delivery of the website experience. We adhere to stringent site speed best practices to deliver a website experience that surpasses consumer expectations.
---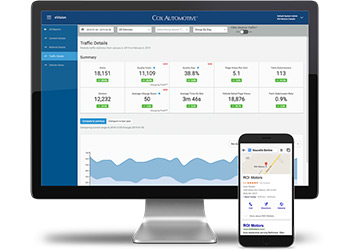 Measure and Maximize Your Performance
To understand your digital performance, and how you stack up to your competition, you need more than basic digital data. Our Analytics platform provides critical data and insight into your website, advertising and campaign performance, with an easy-to-read reporting system that delivers comprehensive business intelligence across your digital investment.
---
Managed Services
To maximize your digital strategy, we complement our technology platform with Managed Services teams who partner with you to achieve your goals as quickly and cost-efficiently as possible. Our Content and Creative services deliver tailored marketing campaign assets and strategy. The largest SEO team in the industry optimizes your organic web presence. Our social team fosters engagement with your social community and monitors your reputation. Collectively, our teams deliver the partnership you need to drive more leads and deals every day.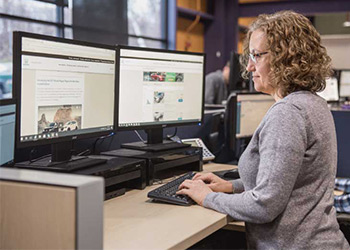 ---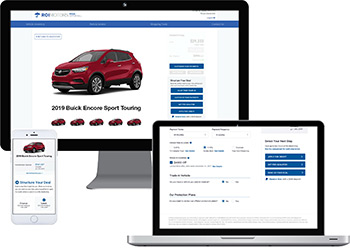 Digital Retailing
Dealer.com's Digital Retailing tools (PaymentDriver and FinanceDriver), powered by Dealertrack, help you deliver the integrated, omni-channel customer experience that today's automotive shoppers expect. From website to showroom, Dealertrack's Digital Retailing tools offer a customizable, efficient, easy to use, reliable solution that is proven to boost in-dealership sales.