Frequently Asked Questions
Frequently Asked Questions
Shift Digital has been contracted by GM Canada, to facilitate the launch and ongoing maintenance of the GM Canada Dealer Digital Solution. This includes: overseeing the negotiations, contracting and oversight of the vendors; ongoing account management; providing proactive and reactive, ongoing dealer support, which includes, but is not limited to, analytics review, creative execution and website updates, supplier facilitation, dealer education; facilitating billing; tagging and analytics; defining the roadmap for future products and program additions.
GM Canada has contracted directly with Shift Digital to manage the negotiations, contracting and vendor management of the Dealer Digital Solution suppliers. Shift Digital holds the contracts for the suppliers within the program, all of which are assignable to GM Canada.
For billing purposes, Shift Digital facilitates the collection and payment of the billing to and from the suppliers. Shift Digital then passes that billing information to GM Canada which allows GM Canada to bill the dealers via the monthly open account process.
Dealers are not required to sign any contracts directly with the suppliers in the program, as this process is handled through Shift Digital and agreed upon through the End User License Agreement (EULA).
The End User License Agreement (EULA) is an agreement between Shift Digital and the Dealer, which includes the terms and conditions of the program. The EULA includes, for example, payment terms, billing rules, and cancelation procedures. It also includes provisions regarding the use of the services throughout the program, enabling the service providers selected by the dealer during enrollment to provide the services through the program.
You will not receive a bill for your website package until after your site goes live. All dealers will then be billed through the monthly open account process.
The use of the term "recorded call messages" within the EULA pertains to call tracking services. These services are an a la carte service provided by several our suppliers and is completely optional. Neither GM Canada or Shift Digital will be recording or maintaining recorded materials as this service is directly between the dealer and supplier. The ability to listen to recorded messages through the call tracking service will be provided via the dealers chosen supplier.
If a dealer chooses to transition from one supplier in the program to another, the GM Dealer Digital Consultant team will be able to ensure a smooth transition so that a dealer is never without a website. Dealers will always be the owners of their own data and transition between suppliers will not affect this.
GM Canada has negotiated terms with Shift Digital and our suppliers to ensure our dealer network is protected. All supplier contracts within the Dealer Digital Solution are assignable to GM Canada and will not cause disruption to the service you are being provided by your supplier.
The Dealer Digital Solution is a certified supplier program designed to provide General Motors dealers access to the best digital marketing tools, at the best price. The program will launch with websites, chat, and digital advertising packages, but additional digital tools and services will be added to the program in the coming months.
Six industry-leading website and digital advertising supplier choices for dealers to choose from
Quality reporting to help guide your investments and improve performance
Dependable and proactive support from your GM Digital Consultant
Coordination of GM Canada and dealer retail initiatives across multiple digital platforms
Innovative technologies and product roadmaps to keep you ahead of the competition
Additional products, tools and add-ons to strengthen your digital presence
Lower costs that drive efficiency and maximize your dollars
As outlined in the 2019 REP manual, in order to be compliant, dealers must have a website from one of the six website suppliers in the program, and they must not have any other dealership website outside of the program. A regular audit will be performed and any dealers who maintain a website outside of the of the program will not be compliant with REP.
Participation in the digital advertising program or any other digital tools offered through the program, are completely elective and not considered a REP requirement at this time.
All dealers will be billed through the monthly open account process.
All dealers will receive a GM Digital Consultant (GMDC) as part of this program. This resource is designed to help create and upload website assets as well as provide proactive monthly reporting on your site's performance.
GMDC's are also available to answer question regarding lead delivery, digital advertising setup, billing, and insights into all the certified suppliers and their offerings.
The GMDC will be available to you regardless of the website supplier you choose and will continue to support you if you choose to switch suppliers.
The GMDC comes at no additional cost to the dealer.
Yes. Dealers are free to work directly with their chosen supplier's support team.
If additional support tickets or items need to be seen to completion, the GMDC will be able to help facilitate those conversations with the supplier on your behalf.
The enrollment period is four weeks long. It opened on Friday, June 14th and will close at the end of the day on Friday, July 12th. Dealers only need to choose a website supplier and package and complete the GlobalConnect enrollment process in the above enrollment window. This is due to the Retail Excellence Program (REP) requirement, previously communicated.
Once a dealer has enrolled for a website supplier and package, the dealer will not be able to change suppliers until the site is live. Once the site is live, the dealer can change suppliers with 30-day notice.
To enroll though the GlobalConnect portal you must be assigned the "Dealer" business role. This role is typically assigned to the Dealer Operator or General Manager of your store. If you are not assigned this role you will receive the message "Agreement does not exist or is unavailable". If you are unsure of who in your store holds this role, please contact your Partner Security Coordinator (PSC). The Dealer Systems Support Help Desk at 1.800.265.0573 are best equipped to support dealer security/role-based questions.
The GMDC's are here to assist in providing guidance for situations such as these. Please reach out to your GMDC if a situation arises with your dealership.
It is highly recommended that you give notice to any secondary website supplier you are currently in contract with to give them ample time for transition to your certified supplier.
Websites can take 8 to 12 weeks, from time of sign-up, to build and push live depending on the level of package selected and any additional a la carte items chosen. This timing is also dependent on the dealer's ability to review and approve their website in a timely manner.
No. Your dealership will not be without a website at any time during the process. Your GMDC will ensure an appropriate and timely transition of your current website onto your certified supplier website, without any down time.
Yes. Dealers are free to use their existing URL, or an additional URL that they own.
Yes. Third party tools, such as chat, digital retailing, trade evaluations, etc., can be incorporated on all certified websites at no addition cost.
All leads from your certified website will continue to come to the dealer via the current Dealer Direct/ADF format lead export process.
Shift Digital will provide access to an online reporting portal that tracks various Tier 3 metrics – both high level and advanced – that allows for dealers to monitor the progress of their certified website.
In addition, each dealer's website supplier will be able to provide existing website metrics (as well as digital advertising metrics if applicable) to help support the Solution as well.
The GMDC Support team can further answer any questions that may arise.
---
Enrollment Process How-To Guide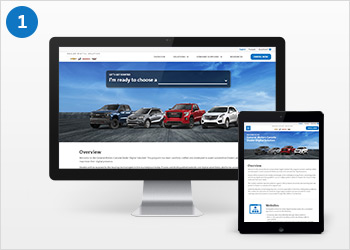 Step 1
Go to http://gmdealerdigital.ca
Visit the GM Canada Dealer Digital Solution Enrollment website to learn more about the certified digital program.
Here you will find additional info about the various:
Website Package Offerings
Website Add-Ons and a la Carte items
Digital Advertising Offerings
Additional Digital Tools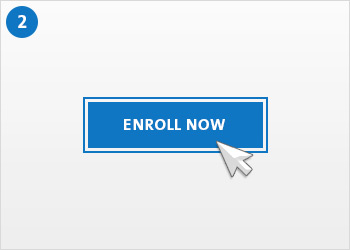 Step 2
Click "Enroll Now" anywhere on the site
Once you are ready to select a website package, a website a la carte item(s), a digital advertising offering, or additional digital tools, you can click any "Enroll Now" button on the site.
From there you will be redirected to GlobalConnect to fill out your enrollment choice(s).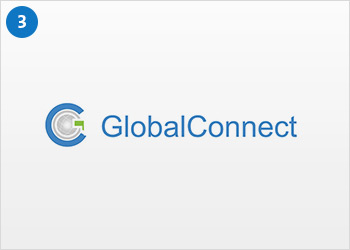 Step 3
Receive confirmation and prepare for launch!
After you've made your program selections and have completed the enrollment form on GlobalConnect, a General Motors Digital Consultant (GMDC) will be in touch within one business day.
Your GMDC will be there to assist with any questions you may have, outline next steps in preparation for launch, and provide important timelines and program expectations.
---
For any additional questions about the General Motors Dealer Digital Solution please contact the GMDC Support Team: