"The Industry's Premier Digital Advertising Solution"
At Dealer.com, we know that the automotive industry thrives when dealers, consumers, and manufacturers are completely connected. Using the industry's leading digital advertising solution, you can automatically connect your vehicles with their most likely buyers, track and monitor ROI in real-time across your complete program, and execute any strategy, at scale, adapting as the situation requires. For an innovative, efficient and effective way to boost online sales, trust in Dealer.com.
PACKAGES AND PRICING
Enroll Now
DDC / Trader Package Comparison
---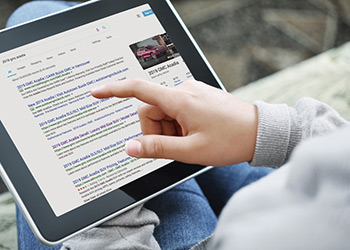 Paid Search
With Dealer.com, you ensure that the foundation of your advertising strategy is the most awarded and most trusted paid search technology in automotive. Fully integrated with your inventory and bolstered by vehicle-specific content for every ad, it's proven to differentiate your dealership and capture the existing demand in your market.
---
Retargeting
Stay connected to every shopper, on every device, at every moment. Retargeting turns digital "be-backs" into return visitors. Although the vehicle purchase process is different for everyone, shoppers visit 5.5 sites on average during online research before making a purchase. *Dealer.com retargeting retains shoppers' interest and drives them back to your virtual showroom. If your salespeople would follow up with anyone who visited your physical showroom, wouldn't you do the same for your virtual showroom?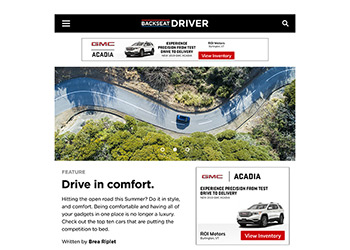 ---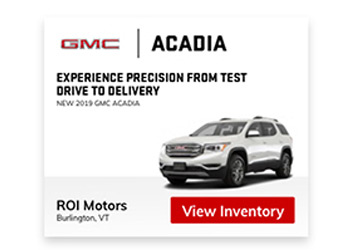 Display
Powered by the industry's most innovative data-targeting and fraud prevention technology, Dealer.com Display captures and generates new customer demand to influence the right shopper at the right time. Our technology works by connecting your website and inventory with every major digital advertising exchange, extending your reach and driving shoppers to your dealership.
---
Social
Our Facebook Advertising solution is tailored for automotive. These campaigns are aligned with your specific sales strategy, with ads that are deep-linked to your inventory so you make the most out of your targeted social media campaigns. Ads are generated dynamically based on customers' interests and behaviours on Facebook, whether they have visited your website before or not, actively influencing their path to purchase.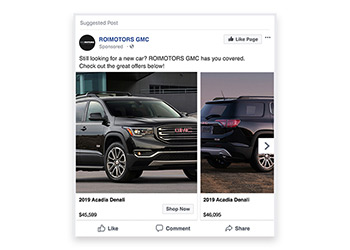 ---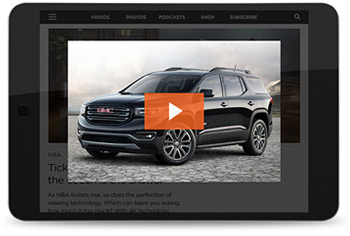 Video
Dealer.com Video Advertising provides a dynamic and engaging format that gives you the ability to build brand and inventory awareness in your market. Shoppers who view video are 1.81x more likely to purchase than non-viewers1 and have an average click-through rate (CTR) of close to 2%; one of the highest of all digital ad formats. People who watch your video for 3 seconds or longer have a CTR of 8%.2 Our Video Advertising campaigns can align with your specific sales strategy on both mobile and desktop devices.
---
Total Coverage
Dealer.com features unmatched coverage, reach, and data. Positioned for a mobile-first world, our mobile-friendly display ads paired with our comprehensive search and social offerings provide a strong presence across all devices. Likewise, our ads run on every major ad network so you can feel confident in knowing your content will always reach the right consumers.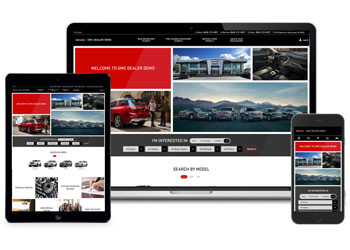 ---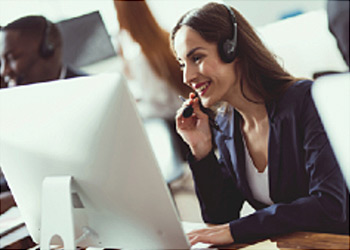 Digital Advertising Strategy
Our teams proactively partner with you. Using local targeting driven by a broad shopper data set, we create a custom strategy that drives results for your dealership. With Cox Automotive industry-exclusive data and previous campaign performance, we generate data-driven digital marketing strategies so you're never on your own with Dealer.com. Your sales data and dealership goals further enhance this strategy, creating a complete marketing plan that is optimized for both reach and ROI. Once your campaigns are underway, dedicated Digital Strategists monitor them closely, optimizing for results and providing detailed monthly insights and recommendations.
---
Trusted Partnerships
Our commitment to safety and security led us to industry-first partnerships with White Ops and the Trustworthy Accountability Group (TAG) to detect and combat digital advertising fraud. A 2017 Bot Fraud* study found that advertisers lost as much as $6.5 billion per year to bot-generated, non-human traffic. Through these partnerships, we are able to provide more cost-efficient and trusted advertising campaigns for your brand.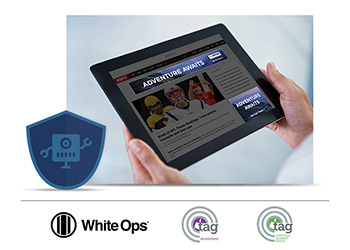 ---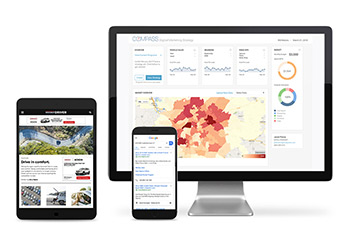 Comprehensive Analytics For Every Campaign
Dealer.com advertising analytics data is dynamic and accurate, giving you the clearest picture of how your advertising campaigns are driving traffic and conversions from one centralized hub. The nGauge quality score, powered by Pixall technology, measures traffic quality and automotive digital shopping behaviour. By analyzing online consumer engagement behaviours, it can determine which buyers are most likely to purchase a vehicle. So you can focus more time on the right opportunities and position your sales strategy on your most serious shoppers.